Introduction
China Yiwu International Commodities Fair
(
Yiwu Fair
) has been held since 1995. The event is jointly hosted by theMinistry of Commerce, the People's Government of Zhejiang Province and other relevant authorities. The Yiwu Fair is oneof the largest, most influential and most productive commodities fair in China. It has honored as "Best Management Fairsin China", "Best Outcome Exhibition", "Top Ten Exhibitions in China", "Best Fair sponsored by the Government" and "MostInfluential Brand Fairs".
Tel:

+86-579-85415888
Fax:

+86-579-85415777
E-mail:

trade@yiwufair.com service@yiwufair.com
Date:
10.21-25
Venue:
Yiwu International Expo Center
Sponsors:
The Ministry of Commerce of People's Republic of China
Zhejiang Provincial People's Government
China Council for the Promotions of International Trade (CCPIT)
China Light Industry Council
China General Chamber of Commerce
Organizers:
Zhejiang Provincial Department of Commerce
Yiwu Municipal People's Government
Fair Execution:
Yiwu China Commodities City Exhibition Co. Ltd
Strategic Partner:
Adsale Exhibition Services Ltd.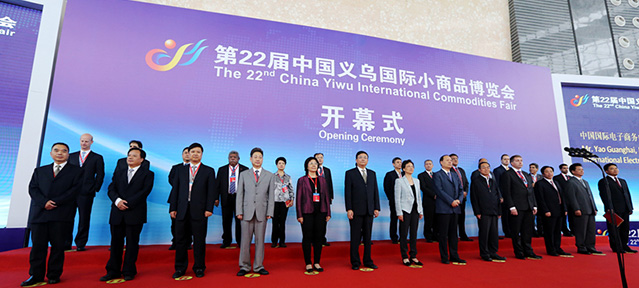 2017 Fair Scale
Exhibition Area: 150,000 ㎡
International Standard Booths: 4,500
Quality Exhibitors: 2500
Visitors: 200,000

Scope of Exhibits
Hardware
Clothing and Shoes
Electromechanical Facilities
Stationery
Daily Necessities
Electronic & Electrical Appliances
Knitwear
Pet Products
Sporting Goods and Outdoor Leisure Products
Toys
Auto Accessories
Ornament and Accessories
Crafts
Intelligent Life Style
Layout

wechat
Hotline:
+86-579-85415888
Fax:
+86-579-85415777
E-mail:
service@yiwufair.com
Copyright 2017 Yiwu China Commodities City Exhibition Co.,Ltd CIP:B2-20100024