These clips show how a fantastic fellowship was forged by home video, fearsome effects and David Bowie in a codpiece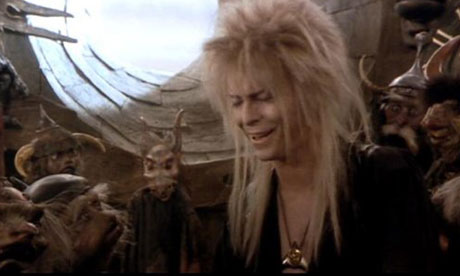 After the gritty realism of the 70s, the 80s offered audiences a chance to suspend disbelief and take a flight of fantasy into strange alternative worlds.
It was a time for mythical adventures in exciting lands populated by enchanting characters but often ruled by dark, malevolent forces. It was a time for callow would-be warriors to embark on quests to restore equilibrium by courageously going up against flamboyant and fearsome foes – often looking like the product of grisly adolescent nightmare. It was also a time for jaw-dropping effects. From the physicality of live-action puppetry to creepy Claymation effects and early experimentations with CGI, state-of-the-art technology breathed tangible life into these often dark fantastical creations.
Due in part to unfair comparisons with a certain iconic sci-fi series that emerged at the time, these fairytale legends often performed badly at the box office. However a firm fellowship arose through the event of home video, which granted these imaginative works ever-lasting cult status. So let us take a glimpse at five cult favourites from the 80s fantasy adventure canon, the stuff that real dreams are made of:
1. Willow (1988)
Considered too dark for children at the time, this George Lucas film fantasy is an adorable small person's adventure. Warwick Davis takes the lead as the reluctant hero who must protect a baby against an evil queen (Jean Marsh camping it up marvellously). With its rousing score, cutesy leads, array of imaginatively grotesque creatures and New Zealand locations it now feels like a teasing prelude to Middle Earth. But the transformation of a band of soldiers into hideous snarling pigs may have proved too scary for tiny tots to take. Judge for yourself.
2. Dragonslayer (1981)
Set in a world where magic and magicians are a dying breed this tale of sword and sorcery benefited from both its pioneering Oscar-nominated effects and its oddball casting of future Ally McBeal co-star Peter MacNicol in the lead. He stars as the sorcerer's apprentice on a quest to kill a dragon that feasts on sacrificed virgins. The first spellbinding confrontation scene with the creature is a credit to early 80s puppeteering and Go-Motion special effects.
3. The Dark Crystal (1982)
You have to commend Muppet masters Jim Henson and Frank Oz for successfully pulling off the first ever film completely populated by live-action puppets. No mean feat indeed. This Tolkienesque tale has strange mystical lands, cute elfin leads and charmingly grotesque allies. But it also features the truly unsettling monstrous race of the Skeksis: squawking bird-beaked cretins that are utterly vile and detestable as this scene demonstrates.
4. Return to Oz (1985)
We're certainly not in Kansas any more! In this sombre sequel a melancholic Dorothy undergoes electro-shock treatment and wakes up in a ruined Emerald City to find her friends have turned to stone. Luckily there's a talking hen, a clumsy pumpkinhead man and the robot contraption Tik-Tok for comfort. Then Will Vinton's clay animation effects lend creepy voyeuristic tendencies to rock faces. But it's those wicked "wheelers" we remember. Here's a clip of their first ghastly appearance.
5. Labyrinth (1986)
Seemingly aimed at a more mature audience Labyrinth has all you could possibly muster from a pubertal nightmare: a maze populated by trolls, goblins and ill-tempered gnomes all realised through Jim Henson's adorable puppet creations. Then there's David Bowie as the Goblin King; sporting a hideous Halloween haircut and distracting codpiece. But who can resist that catchy Magic Dance musical number?
Last week Jessica Stewart invited you to her royal wedding clips extravaganza. Here are the reader suggestions that won her heart:
1) Christinuviel suggested another royal wedding gone wrong in Spaceballs.
2) Flash Gordon, what a classic – thanks, jamie12.
3) jeromeknewton showed us King Arthur getting hitched in Excalibur.
4) Not exactly a wedding, but we'll let Owlyross off with this from Lord of the Rings: the Return of the King.
5) And Jabberwocky gives us a less conventional take on the royal wedding, as Bonnacon reminded us.