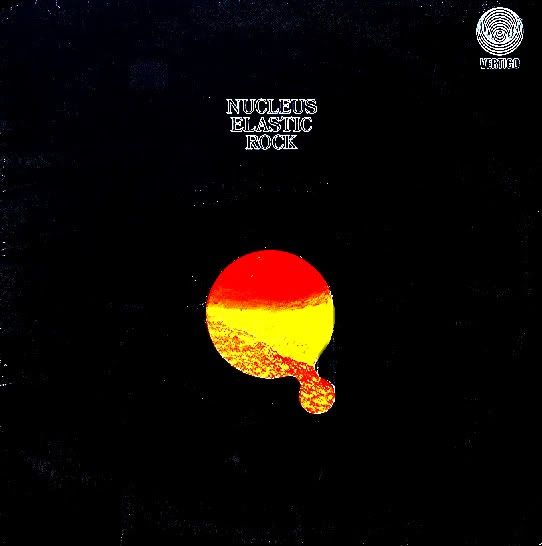 In celebration of some of the great jazz I've had the fortune to discover in the past six months, here's a longtime jazz/rock favorite that certainly eventually helped ease me into traditional jazz. Though it's probably best known today as a member contributor to later incarnations of
Soft Machine
, British jazz rock collective Nucleus was in actuality a close contemporary of the Softs in terms of pioneering the fusion of jazz and rock music in the UK. While Nucleus is often written about as "trumpeter Ian Carr's band," one of the things I find most interesting revisiting this album is how democratic the whole thing seems to be, with solo time and composition credits split relatively evenly. In fact, if I were
going to make a guess who the leader is, it'd probably be Karl Jenkins, whose name is on seven composition credits and whose oboe soloing at least partially defines the band's sound. In any case, though, there's an air of equality about
Elastic Rock
that might detract just a bit from a sense of personality but also allows the band to cover quite a bit of ground.
Compared with the music of their Canterbury soon-to-be-kinsmen, Nucleus is probably a bit tamer, but also a fair bit more blues-oriented. Maybe it's guitarist Chris Spedding's unshakable ties with rock music, but songs like "
Elastic Rock
" and especially "
Crude Blues Part 2
" are so tied to electric blues (especially considering the heavy backbeat in John Marshall's drumming) that it'd be tough to tie the music to jazz but for the wind instruments. While the Softs sought to pursue the avant-garde potential in a marriage between jazz and rock by diving into labyrinthine melodies and atonal soloing, Nucleus pursues an altogether more populist mission, discovering possibilities in the space between cool jazz and rock's propulsive beats. This is excellently evidenced in the hypnotic bassline and hi-hat of "Torrid Zone
," which features some of the ensemble's best soloing over a rhythm section that is obviously rock-influenced but somehow retains an undeniably laid-back jazz vibe.
The bubbling, fragile restraint of "Earth Mother
" illustrates well one of my favorite aspects of this album--thematic cohesion. The track partially utilizes the "Torrid Zone" bassline but the group takes the energy in a completely different direction with Marshall's frenetic drumming and Spedding's unpredictable riffing. The other, perhaps even more dominant thematic chunk is "1916," which opens the album as a melodic fragment over explosive percussion, then reappears (with much more development) doubled by trumpet and saxophone over a wicked Rhodes/guitar groove in "," is quoted in various solos throughout the album, and even returns on the band's sophomore release. I really love the cohesion that comes from a little melodic restatement, and it allows the band to play with balladry, ethnic flavors and frantic jamming in a flowing progression of short tracks that might seem overly eclectic and tossed off without the thematic context.
When it comes to Nucleus' particular aesthetic, it would seem that "jazz/rock fusion" pertains primarily to the beat and the inclusion of a not-very-jazzy guitar. While Marshall's got undeniable jazz chops, the beat tends to get heavier and just a little bit straighter than an actual jazz group, allowing a lot more weight when it comes to emphasizing certain melodic moments or crafting a beautiful buildup on "
Twisted
," for example. There is a sacrifice, though, when it comes to rhythmic fluidity--the band members' phrasing during solos tends to be a bit square, ending neatly on those heavy kick drums and spaces created by the rock beats. I'm sure jazz purists would point to this rigidity as evidence of fusion's inferiority, but I for one am glad bands like Nucleus explored the combination--there's a directness that's not usually found in even the most raucous of jazz, and while the chops evidenced on this disc aren't likely to make anyone throw away their Blue Note collections, it's a far cry from jam band stuff. Through it all and bracketing any arguments about the historical trajectory of jazz, it should be said that the sounds here have aged remarkably well due to the band's clean instrumentation (electric only in the bass, guitar and Rhodes) and timelessly elegant melodic instincts. While Soft Machine usually gets most of the props, Nucleus proves (starting here) that there's depth worthy of plumbing in the rest of the 1970's British jazz fusion scene.